"In 2018, USD35 billion worth of pharmaceuticals suffered temperature excursion and product lost."
AOC Pharma Services
Clinical drug supply chain service

Biological sample shipping

Medical devices storage and transportation

API & bulk drug substance shipping

AOC Pharma exercises our robust quality management system to safeguard each shipment by: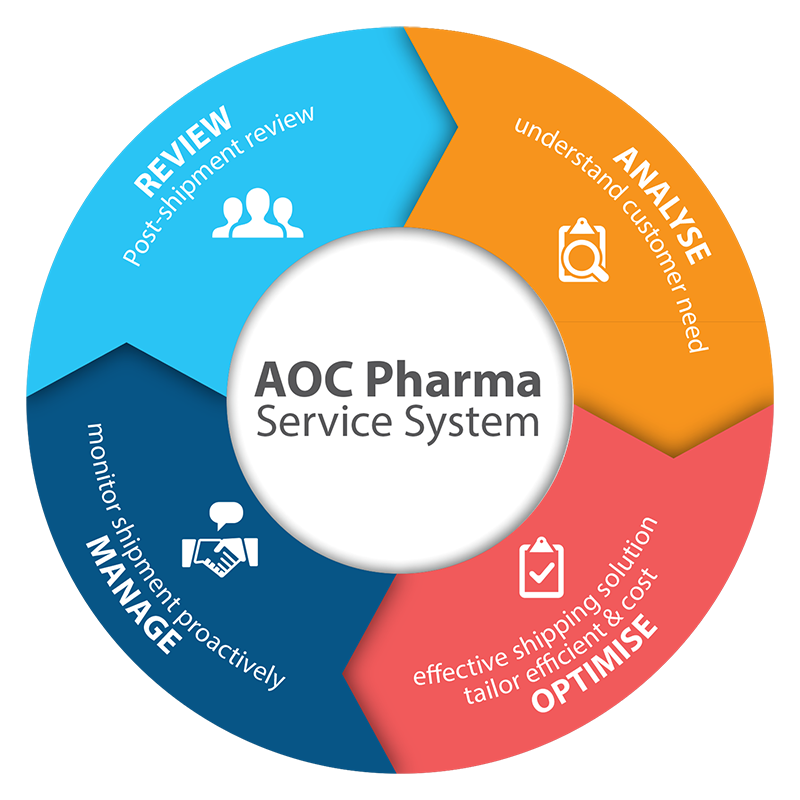 Compliance
We navigate your shipments under GDP & IATA CEIV Pharma, ensuring temperature, customs and regulation requirements are met.
Quality Management
Every shipment of ours is planned with risk analysis, having solution with lane and route validation prior to shipment executes.
Experience
Our rich airlines operation experience and comprehensive cold chain knowledge allows us to plan, execute and communicate with shipment operators effectively.
Temperature Control
We can offer wide ranges of temperature protection, in passive and active packaging, for different product shipments.
Control
Our Global Competence Center closely manages every shipment and keeps updating all stakeholders the shipment status throughout the process.
Customized Solutions
Our reliable in-house consultants, back up with Global Logistic Program, address each customers' special needs with cost-effective and flexible solutions.