IATA CEIV Pharma Re-Certified
Chevalier AOC Freight Express Holdings Limited commits to our pharmaceutical cold chain logistic services for the industry. On September 21, 2022, AOC Pharma has re-certified our IATA CEIV Pharma qualification successfully.
AOC Pharma continues to provide a well-planned cold chain logistics service for pharmaceuticals and biological substance movements for local transportation and aboard.
"The successful re-certification demonstrates our determination and effort delivering pharmaceutical for the well-being of patients and facilitate the world pharmaceuticals development. While Hong Kong is keen to develop itself to be one of the world's drug development cities, AOC Pharma facilities to bring its results to the world." said Alex Koo – Chief Executive Officer, Chevalier AOC Freight Express Holdings Limited.
Bridging China and Latin America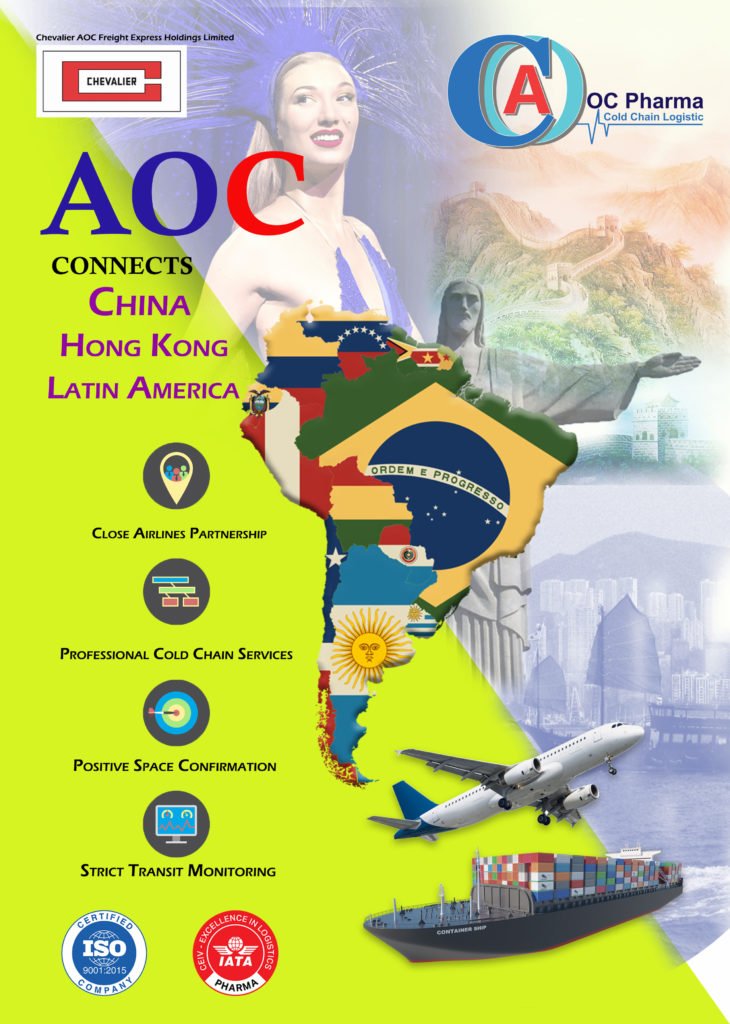 COVID-19 pandemic widespread and it is now hard hitting the Latin America areas. AOC Pharma sees a strong demand for medical supply to combat the pandemic at the area.
Most of this product requires cold chain management but there are challenges sending cold chain shipment from China to Latin America such as lack of direct service, reducing flight frequency.
AOC Pharma overcome the obstacles by partners with reputable carriers include LATAM, Amerijet and others to provides cold chain management for the entire journey. Our proven cold chain management track records for traffic from China to Latin America earns a reputation in market.
aocpharma.com website launch
AOC Pharma is proud to premiere our dedicate website, with a full listing our services and network. As always, we are keen to keep our communication channels open, which is why you can reach us here with any enquiry, suggestion or opinion about us or the pharmaceutical and life science industry in general.
As a key industry actor in bio/pharmaceuticals cold chain logistics, we are here to exchange news, views and ways in which we can contribute to patient health.
AOC Pharma addresses Air Logistic and Maritime Conference
On 19-20 November 2019, AOC Pharma met industry delegates at the Hong Kong Air Logistic and Maritime Conference. Jack Lo, our General Manager, Business Development talked with various practitioners on the topic of "Staying Ahead in the Air Cargo Cold Chain". Mr Lo elaborated on the role of a freight forwarder in pharmaceutical cold chain logistics.
AOC Pharma receives "Best Service Award" in Cold Chain Summit
On 19-20 September 2019, AOC Pharma participated at the 2019 International Pharmaceutical Cold Chain Summit 2019 in Hangzhou, China. We were honoured to receive the 2019 Best Service Award under the Pharmaceutical Logistic Service Providers category.